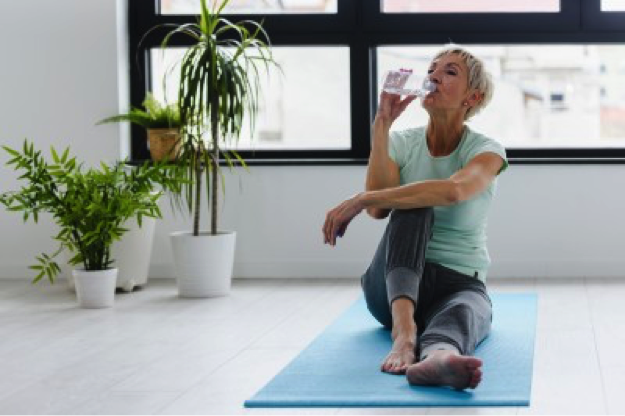 It's no secret that most of us are spending more time at home these days. While it can be tempting to relax on the couch and indulge in a treat or two, it can be important to your health to actively make healthier choices. In fact, there are some things that you can do to set yourself up for success and live a healthier lifestyle. In this article, we're going to take you through a few simple steps to live a healthier and more balanced lifestyle while spending more time at home.
Drink More Water
Drinking enough water each day is a simple way to contribute to your health. For optimal health, it is recommended that women drink 2.7 litres a day, while men should drink 3.7 litres per day. By spending more time at home, you're provided with an advantage to drinking enough water each day as you can easily access fresh water when you need a refill.
When your home is equipped with water treatment products, drinking water is all the more enjoyable and beneficial. Modern water filtration products can remove contaminants from the water, leaving you with fresh and tasty results.
Improve Your Home Water Filtration
For those who don't have a home water filtration system, now is the time to invest. You have many options available to you, including:
One of the experts at your local Water Depot location can help you explore the options available to you and find the best solution for your lifestyle.
Get Active
Whether indoors or outdoors, physical activity is a great way to contribute to your health without having to go too far from home. There are a number of exercises and activities that can be done each day to help burn calories, strengthen muscles and contribute to a well-balanced lifestyle.
Working out
Walking, jogging or running
Steps or stairs
Hiking or walking a trail
Swimming
Yoga
Cycling
Playing with pets
Cleaning and laundry
Spending time with your family can also contribute to your physical activity each day. Whether you go for a walk, play at a local park or find a fun activity that everyone can enjoy, you can all get active together without straying too far from home.
Self-Care
Dedicate a portion of your time spent at home to self-care. Take some time to discover which activities truly make you happy and contribute to both your physical and mental health. For some, yoga and meditation can make the perfect addition to a self-care routine, while others prefer cooking a healthy meal, having a candle-lit bath, or watching their favourite movie.
Water Depot
If you found this article helpful, visit our online blog for more information. For a wide selection of home water treatment products for sale, visit your local Water Depot location to get started today. We have everything from water softeners and ultraviolet systems, to the accessories and supplies to maintain them for years to come.