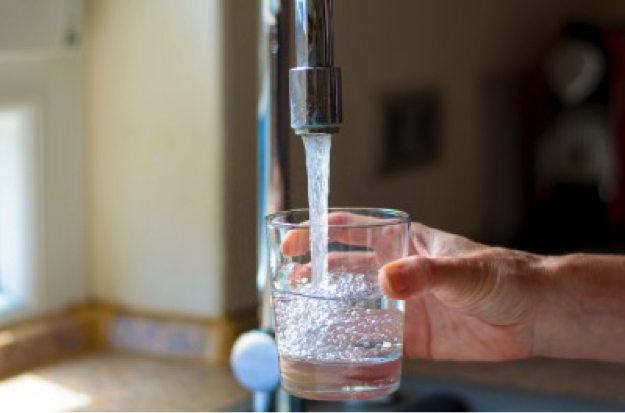 Did you know that there is chlorine in your drinking water?
In fact, chlorine can be found in the water used throughout your home! And in most bottled water, too. The primary use of chlorine in water is to kill bacteria and maintain the purity and cleanliness of this essential fluid. You may have heard that little voice in the back of your head that's asking, "is it safe?"
Well, with anything else, everything has its positives and negatives. There are many benefits to having chlorine added to our water, but there are a few downsides. If you feel that you're not comfortable with having chlorine in your water, there are some preventative steps you can take to reduce it.
But first, let's take a closer look at the chlorine in our water and find out why it's there in the first place!
The Effects Of Chlorine In Tap Water
Chlorine is added to water with one goal in mind: to keep it clean and safe to drink.
It's a highly-effective method that's used to kill waterborne diseases and bacteria, including typhoid, dysentery, and cholera, among many others. Although there are other ways to keep your water clean and free of impurities, chlorine is one of the most common methods and has proven to be quite effective, especially when looked at on a larger scale, such as municipal water treatment.
Everything has its list of pros and cons. For chlorine in tap water, there are only a few noteworthy concerns. The first being the taste and smell. Chlorinated tap water can affect how it tastes and smells, leaving your drinking water, coffee, tea, and other beverages with an odd aftertaste or scent.
It can also affect your bathing. You might find that the tap water in your bathtub and/or shower has a strong, chlorinated smell, or that it leaves your skin and hair feeling itchy and dry. Not to mention that chlorine can also be inhaled, for instance during a shower or steamy bath.
Other than dry hair and itchy skin, some studies have shown that chlorine can be connected to a variety of diseases and toxicity issues. Although the results of these studies may not affect you directly, it is a topic of interest that has been highly-studied worldwide.
Reducing Chlorine from your Tap Water
If the idea of having chlorine in your tap water makes you feel uneasy, there are preventative measures you can take to reduce it yourself. Installing a home water purification system is usually the best way to go! Let's look at some of the most effective systems that you can have installed in your home.
Reverse Osmosis Water System
Reverse Osmosis Systems truly leave your drinking water with an outstanding taste, smell and appearance.
These systems can help reduce the amount of chlorine from your tap water, along with:
Fluoride
Sulfates
Lead
Detergents
Pharmaceuticals
Pesticides
Nitrates
Arsenic
Reverse Osmosis Systems can remove these impurities from your water with a series of filters. A four to five step process is utilized to remove the contaminants and flush them down a separate drain, leaving you with pristine and refreshing water.
Learn more about Reverse Osmosis Systems here!
Refineosoft Water Softener
This system is unique in the water treatment market, as it not only softens water, but it also reduces chemicals such as chlorine. Making this system essentially two machines in one!
Learn more about Refineosoft Water Softener Systems here!
The Benefits Of Water Purification Systems
There are many wonderful benefits of having a water purification system installed in your home or business. They can help to reduce the amount of chlorine in your tap water, among many other impurities, contaminants, bacteria, and the like!
Some of the water purification systems for sale at Water Depot include Ultraviolet Water Purification Systems, Water Softeners, Iron Removal Systems, Reverse Osmosis Systems, and more! Click here to learn more about the benefits of water purification systems, or visit your local Water Depot showroom for more information! We have locations throughout Ontario, including Hamilton, Barrie, Guelph, Niagara Falls, and throughout the GTA!